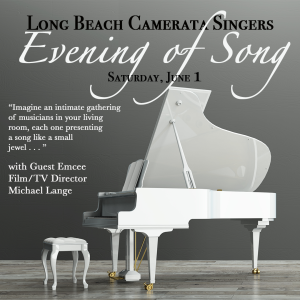 What do you get when you introduce a world-famous TV Director to a world-famous choral conductor?  That's what happened recently at a lunch in Westwood near the UCLA campus when Long Beach Camerata Singers Artistic Director, James K. Bass,  met Michael Lange, Film and TV Director since 1981 with over 250 TV shows to his credit.
In a wide-ranging conversation, these two entertainment professionals with vastly different perspectives, found a lot of common ground.   Bass realized he had seen many of Lange's directorial efforts; Lange's son is not only a choral singer, he is also a choral composer.
The result?  A collaboration at Camerata's upcoming Evening of Song concert on June 1, with Lange as the evening's guest emcee and Bass at the podium.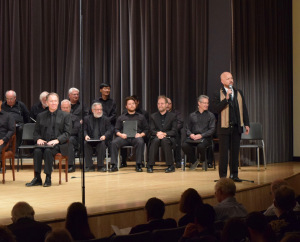 A few stories, a little banter, perhaps some questions from the audience . . . the point is, we don't quite know what is going to happen on concert night, and that is part of the fun!
So what do you get when you introduce these two?  We think it might be Ellen DeGeneres with Choral Music . . . or it might be  Handel's Messiah with Robin Williams . . . or it might just be something you've never seen before.
Join us and find out for yourself!