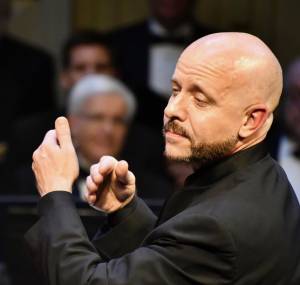 In a recent interview with the Artistic Director of Long Beach Camerata Singers, Dr. James K. Bass, we discussed his approach to the group's upcoming performance of Carmina Burana:
Peanutsez:  What makes Carmina Burana an enduring favorite?
Dr. Bass:  First of all, the piece has a special combination of rhythm, melody and imagery.
PS:  Imagery?
DB:  Yes!  First there's the big beginning, "O Fortuna," and then we are immediately introduced to the imagery of spring — the magic of the forest and first love.  Next is the tavern scene — in taberna — with all the images of drinking.  You know, drunken abbots, dozens of toasts, and the swan roasting on the spit.  Finally, we enter the Court of Love, populated with Greek Gods and their "higher" feelings.  The whole thing is a prescription for musical perfection!
PS:  What does it take to reach this music perfection?
DB:  Carl Orff composed the piece in such a way that there is nothing superfluous.  The ideas are repeated, albeit in an old german/latin dialect; the melodies are short and memorable and the rhythmic qualities are strong and appealing.  This music is easily consumed by the ear and the heart.  It is accessible to all levels of music lovers.
PS:  As Artistic Director, what interpretive choices have you made?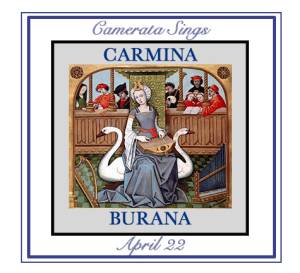 DB:  First, I decided to use the version written for 2 pianos and percussion.  This allows us to take the tempos faster and make the piece more exciting.  Also, I want to elicit an emotional response from the audience, so when a key moment or phrase occurs, I can choose to make it last longer, to make it louder or to make it softer, all for emphasis.
PS:  What do you want your audience to take away from the performance on April 22?
DB:  First and foremost, I want our audience to rejoice in the music, to take pleasure in the human voice as it touches the human heart.  I hope this performance will provide a "sonic meal" of different sounds, a live, high-fidelity experience.
If you would like to hear more from Dr. Bass about our performance of Carmina, please join us on Tuesday, April 17 at 3:30pm at the Long Beach Airport Holiday Inn for "Orff Revealed."  Click here to reserve your free seat: https://longbeachcameratasingers.org/lbcs/carmina-burana-2/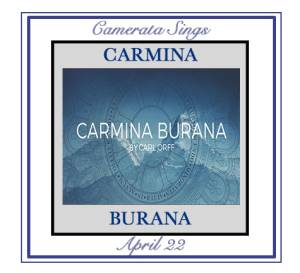 To purchase your ticket for Carmina Burana on Sunday April 22 at 4:30pm, at the Beverly O'Neill Theater in Long Beach, click here:https://longbeachcameratasingers.org/lbcs/carl-orffs-carmina-burana/