The year 2020 has been a wild ride, and it's not over yet. As we watched the cascade of announcements from most major professional music groups that they were cancelling their entire 2020-21 seasons, our hearts broke. We saw not just the financial ramifications which will affect these organizations for years to come, but our heavy hearts wondered, "Is live music dead?"
However, instead of giving up, closing the shutters, and refiling the Verdi Requiem scores while weeping, Jan Hower and the Board of Directors, with a whole lot of support from Artistic Director, James Bass and Associate Director, Tammy Alderman, thought outside the box, and in fact, moved the box outside. "Rise up!" they all said, "All is not lost, especially live music! Now we have: Camerata Front Porch Concerts.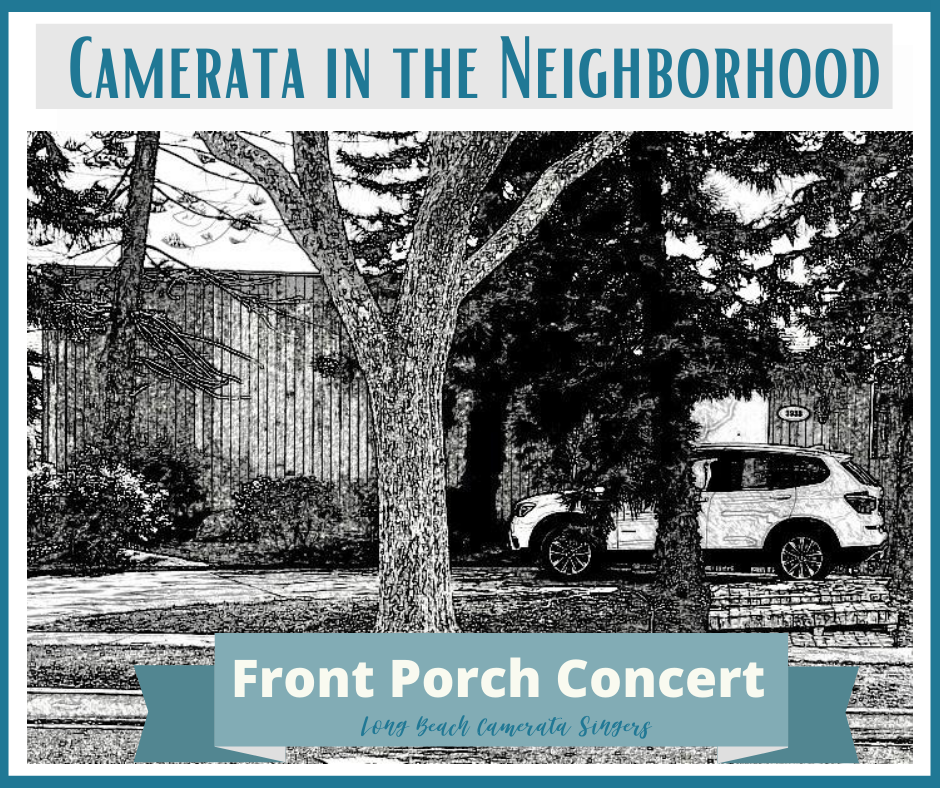 I'll give you a hint as to how great these Front Porch Concerts are: it's like the Hollywood Bowl, but without the drive, parking, or noisy neighbors! How great is that! Bring your picnic! Bring your champagne and crudities and sit back and listen to some of the best voices Long Beach has to offer. Of course, social distancing and masks are de rigueur, but these luxurious front yards offer plenty of room to be safe and enjoy the company of your friends.
If you didn't make it to our previous Front Port Concerts, you have missed some great singing. With the assistance of our staff singers, and sometimes joined by Artistic Director, James Bass' incredible baritone, there have been some wonderful performances featuring everything from the Brahms Liebeslieder Waltzes to "Loathing", from Wicked. What a gift to hear each of these fabulous singers together, but also as they give us solo performances! A huge thank you and tons of respect to our loyal accompanist, Stephen Karr.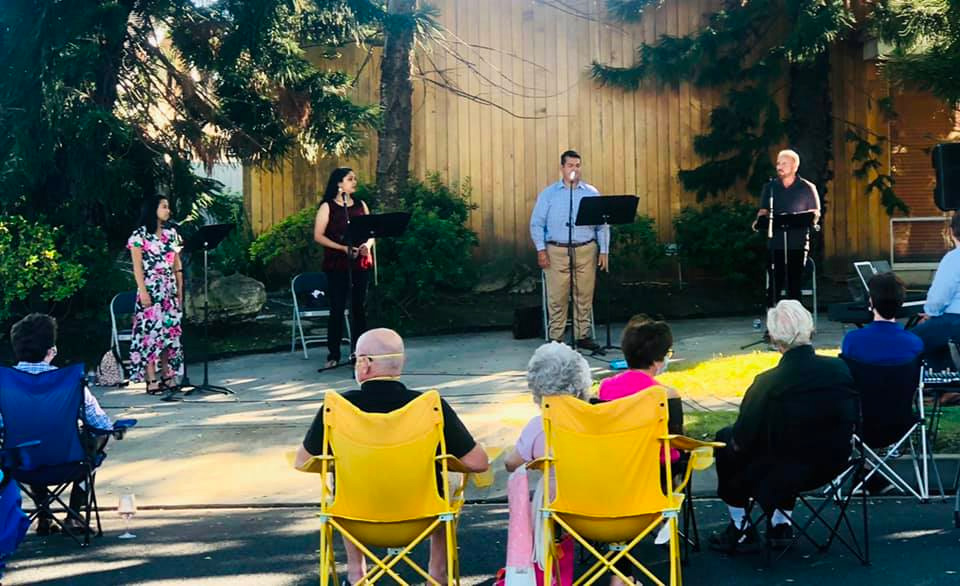 We started off with one ensemble, which featured Elizabeth Queen, Soprano; Mayuri Vasan, Alto; Sam A Capella, Tenor; and Michael Valentokovic (replacing James Bass), Bass.  The program has proved so popular that we have added a second ensemble, under the direction of our Associate Conductor, Tammi Alderman.  This ensemble will make its debut on Sunday, September 13 and includes Emily Scott, Soprano; Tiffany Santiago, Alto, Patrick Tsoi-A-Sue, Tenor; and Yasu Ichikawa, Bass.  Put them all together, and WOW, you have got yourself some fine live singing!
But wait… there's more! We are excited to announce THREE more Front Porch Concerts. Sunday, September 13th at 5:30 we'll be in Los Alamitos will all new repertoire. Sunday, September 20th at 4:30, in Park Estates. And finally, on Saturday, September 26th at 4:30 in Cal Heights. To RSVP and receive the address, please click this link and you will receive an email with the address. As always, please bring your own chairs, wear a mask, and practice social distancing. Feel free to bring snacks, beverages, and mosquito repellant.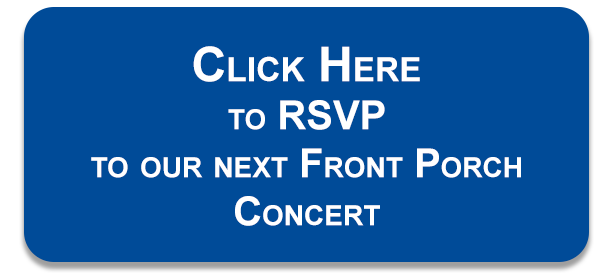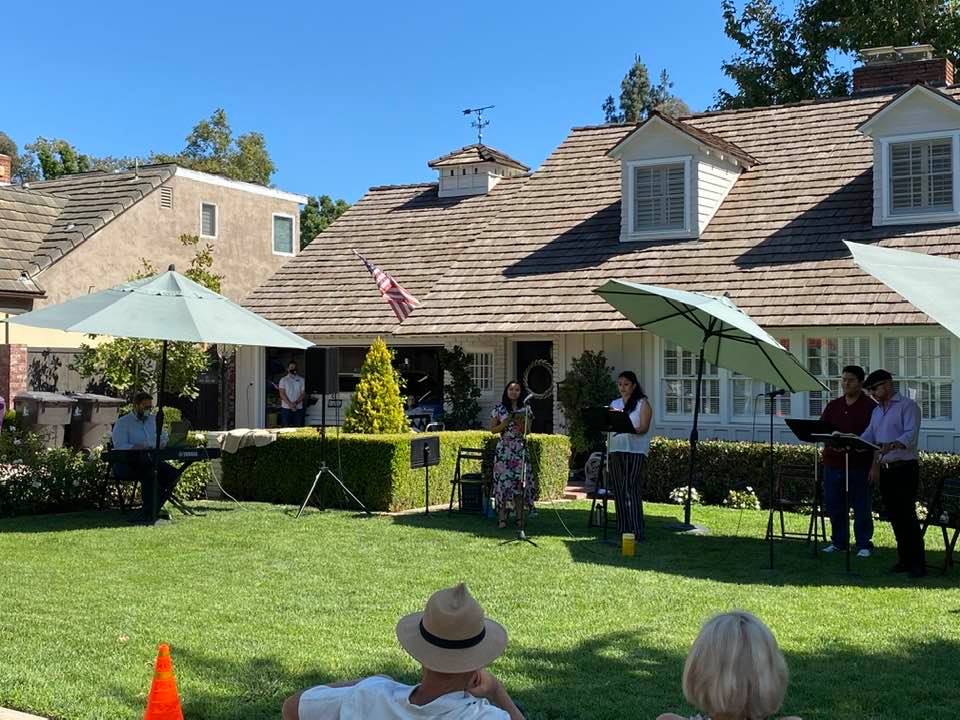 Each of these Front Porch Concerts are free, however we will willingly and excitedly accept donations, which will go to the singers and accompanist. The concerts are helping to take care of all of our paid staff and will ensure the future of The Camerata Singers.
The members of the Long Beach Camerata singers are excited and hopeful that we will all be together again soon. We do have a project in the works that we will share more information about as we get closer to October and November. Suffice it to say, we will not allow live music to go the way of the dinosaurs.
We are so grateful for your patronage, your financial and emotional support, and we hope to see you and your friends outside, by the Front Porch, enjoying great live music. You know you want to be on the lawn where it happens…